Vintage watches are valued for many reasons. Some like the design, others like the heritage and nostalgia. An important aspect for all vintage watch lovers is the fact that their watches are and will remain rare. This is true for most vintage watches; most models are relatively rare compared to their modern counterparts, as many have been lost in time. Some watches are clearly rarer than others. In this blog, I will discuss some very rare vintage watches.
1. Rolex "Texan" 5100
How can we make a list about vintage watches without mentioning a Rolex watch? The Rolex ref 5100 "Texan" is one of the rarest Rolex watches ever produced. It is a yellow gold watch with a yellow gold bracelet, a sapphire crystal and… a quartz movement?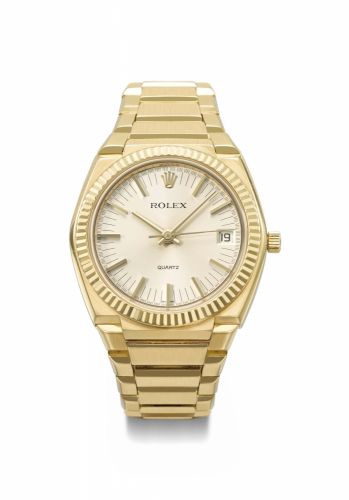 The Rolex ref 5100 "Texan" is one of the rarest Rolex watches ever You should make no mistake, however, this is not just a simple Quartz Rolex and cannot be compared to something like the Rolex Oysterquartz. The Rolex 5100 dates back to a time when Quartz watches were still seen as very prestigious and usually quite expensive. The technology was very new and even Swiss watchmakers wanted to use it. In 1969, Swiss watchmakers unveiled the first version of a quartz movement, the legendary beta-21 movement.
In 1970 Rolex released their first watch with the beta-21 movement, the reference 5100. A large case was designed especially for this watch because the movement did not fit in a normal oyster case. The 5100 measures 40 mm in diameter, which was incredibly large at the time. Rolex provided it with the most modern technology; the 5100 was the first Rolex watch to come with a sapphire crystal and quick-set date. Furthermore, the design of the cupboard has a unique 1970s look, which is still very much up to date.
The Rolex "Texan" is rare because of the extremely limited production of only 1000 pieces. Rumour has it that 900 were produced in yellow gold and only 100 in white gold. The nickname "Texan" refers to the owner of the watch rather than the watch itself. De bijnaam "Texaan" verwijst naar de eigenaar van het horloge en niet naar het horloge zelf. Ironically, this watch is not very expensive at the moment, given that it is such a rare solid gold Rolex. You can have a yellow gold version for less than $20,000.
2. IWC Portugieser ref 325
The IWC Portugieser is perhaps the brand's flagship product in the modern era. The modern iteration of the Portugieser is quite popular and not at all rare. Production of the modern Portugieser began in 1993. However, the Portugieser has been around for much longer, since 1939. It is estimated that only 700 Portugiesers were produced between 1939 and 1993. These vintage Portugiesers are not only rare, but also quite unique. Vintage watches are usually a lot smaller than modern watches, but not the Portugieser. These were designed with legibility in mind and as such are often larger than 40 millimetres, there are even variants that measure up to 43 millimetres. A vintage, non-diving watch that is larger than 40 millimetres is an exception. If you are looking for a vintage watch of modern dimensions, the Portugieser, which is also very rare, is the right choice.
Furthermore, the design of these vintage Portugiesers is incredibly similar to the modern version. The vintage models do not have the chronograph function that is popular today, but they do have all the other Portugieser features. The Portugieser is essentially a watch that has been in production for decades but only became popular after five decades.
3. Patek Philippe 1518
There is perhaps a very simple way to measure how desirable a watch is: the price. The Patek Philippe 1518 was Patek Philippe's first Perpetual Calendar Chronograph and it is incredibly in demand. In 2016, an ultra rare 1518 in steel was auctioned for 10.22 million euros. It was 1 of only 4 made.
The Patek Philippe 1518 is perhaps the best example of a vintage watch with complications It has all the complications you would want from a great watchmaker. All this is made possible by groundbreaking innovations from Patek Philippe. Moreover, this watch still has a design that is very similar to modern watches with similar complications. The 1518 is the forerunner of high horology as we know it. The production numbers are small but not exactly known. There are some variants (steel and rose gold with an integrated bracelet) for which production numbers have been recorded and they were extremely limited.
4. Vacheron Constantin Ref. 4907
This Vacheron Constantin watch may look like a vintage watch at first glance. It has a 35-millimetre yellow gold case, has no complications and is equipped with a hand-winding movement. Yet this reference is far from ordinary. This reference was known for its pristine movement and case finish and overall elegance. Furthermore, this watch has recognisable solid lugs that make the watch stand out and immediately recognisable. This watch has been produced for 9 years but in very small numbers. This watch has been auctioned in the past but there is none for sale at the moment that I can find. If you are looking for an incredibly rare watch produced by the oldest watchmaker in the world look no further than the ref. 4907. This reference was auctioned in the past for about $10,000.
5. Audemars Piguet Ref. 5020.
In a list that includes Patek Philippe and Vacheron Constantin, we cannot leave out Audemars Piguet. As part of the sacred horological trinity, Audemars Piguet is very popular with watch collectors, which is evident from the prices paid at auctions for rare vintage Audemars Piguet watches. De Audemars Piguet ref. 5020 is such a watch. Audemars Piguet was one of the few leading Swiss watchmakers who did not produce many chonographs. As such, their chronographs are very rare and highly coveted. Als zodanig zijn hun chronografen zeer zeldzaam en zeer begeerd. Only 286 pieces were produced between the 1930s and 1950s, making this vintage Audemars Piguet a true collectible.